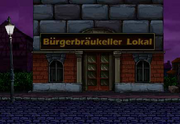 Bürgerbräukeller Lokal is a store that is located near the ending of mission 3 of the game Commando. It is not accessible, but the name of the place is written on a sign on the frong.
Real life locations
Edit
This could be based on the Bürgerbräukeller beer hall, located in Munich. However, it is likely the mission takes place in Berlin, like mentioned in the mission intro, and not near Munich.
Ad blocker interference detected!
Wikia is a free-to-use site that makes money from advertising. We have a modified experience for viewers using ad blockers

Wikia is not accessible if you've made further modifications. Remove the custom ad blocker rule(s) and the page will load as expected.